"Some stories are just stories, and some stories are just facts, facts so important that story can't mess with them."
Noopiming (Anishinaabemowin for "in the bush") is poetry converging on storytelling revealing itself as fact. It opens with a poem that introduces the seven characters. The number 7 is significant and is reiterated throughout the text. It represents the seven Ojibwe tribes and the seven Asishinaabe teachings of love, respect, honesty, bravery, humility, truth, and wisdom.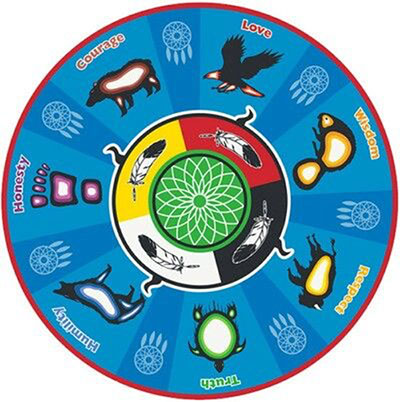 Every character was referred to as they/them. At first I struggled with this. There were times where I did not know where one individual ended or the other began. The characters take on properties of the life forms around them. They are infused with the earth and water and spirits. I wasn't sure if Betasamosake Simpson was playing on gender roles. But then as I got further on in the book I noticed that outsiders were referred to he/him and she/her. Perhaps we place too much emphasis on gender? But this was not what Betasamosake Simpson was getting at. When I stopped trying to force the narrative to fit my experience it became obvious. They/them was used as our characters were part of a herd or flock. This is not just to say that they are one with nature, but that as a group they move as one. Indigenous culture places the needs of the whole over the wants of the individual. My biases and Western mentality were the root of my struggles.
Throughout the text there are Anishinaabemowin words. For the most part Betasamosake Simpson does not give you the exact definition. You have to use the sentence or phrase for context. She also does not italicize or otherwise dinstinguish these words from the English. And I love her for it. If you are reading more diversely to learn about different cultures, then dive into the culture. Embrace the language. Open your mind to perspectives that are different from your own.
Noopiming ends with seven lessons told as both lecture and story. The take away is Weweni – be mindful. Think before you speak and act. Direct your attention to the whole. Consider whether your impact be something positive, uplifting, sustaining. Think beyond yourself.
Leanne Betasamosake Simpson
Leanne Betasamosake Simpson is a renowned Michi Saagiig Nishnaabeg scholar, writer and artist, who has been widely recognized as one of the most compelling Indigenous voices of her generation. Her work breaks open the intersections between politics,  story and song—bringing audiences into a rich and layered world of sound, light, and sovereign creativity.
orking for two decades as an independent scholar using Nishnaabeg intellectual practices, Leanne has lectured and taught extensively at universities across Canada and the United States and has twenty years experience with Indigenous land based education. She holds a PhD from the University of Manitoba, and teaches at the Dechinta Centre for Research & Learning in Denendeh.