The world that P. Djeli Clark builds is very fantastical. The different steampunk elements with all the gears and whirring of the machines. How the angels are built. The different illusions that the djinn are able to conjure. He includes African history, older religions, folktales from around the world. he blends aspects of history from different places and times which enables him to address many social issues. In this series Clark tackles slavery, colonialism, gender roles, and racism to name a few.
Book #1: The Dead Djinn of Cairo
A djinn is found exsanquinated. But there is not a drop of blood remaining toserve as evidence in this crime. Could it have been ghouls or some other supernatural being. The only clues that Fatma el-sha'arawi and her partner have are spells left near the body: curved horns, a sickle, an adze and a moon with twisting vines. What do these symbols mean. Can Fatma prevail over the monsters that threaten our world and the fabric of time itself?
Book #2: The Haunting of Tram Car 015
Agent Hamed al-Nasr has been tasked with finding out what type of being is haunting tram car 015 and exorcising it. Set against the backdrop of a woman's suffrage movement our agents must consult with older religious tradtions in order to solve the case.
Book 3: Master of Djinn
This is the first full length book in the series. Al-Jahiz has been accused of opening up the door between worlds before he disappeared. A cult of his followers is being murdered one by one. When someone steps forward claiming to be al-Jahiz himself and assuming guilt for the deaths, The Ministry of Alchemy, Special Enchantments and Supernatural Entitues is called onto the case. Is it even possible that al-Jahiz is still alive? Why would someone go through the trouble of impersonating him and where are they getting their magic?
I was hoping that Fatma and Agent Hamed would be paired on this latest case. Although he does make an appearance, Fatma's new partner is a bright young woman who is religiously observant. Where Fatma allows us to embrace that women can walk in whatever shoes they choose, Hadia allows us to see that there is strength in the feminine.
P. Djeli Clark does a great job with giving dimension to his characters. They are flawed but grow throut the series. Dead Djinn Universe is genre defying. Part fantasy, the world building is exquisite. Very atmospheric to the point where it has a cinematic feel. Part mystery, he keeps you on the edge of your seat trying to work out the who and why. Part adventure, allo three books are action packed with killer fight scenes that have women at the forefront. And last but not least, all of P. Djeli Clark's books contain an element of social commentary that have you looking at our world both past and present.
P. Djeli Clark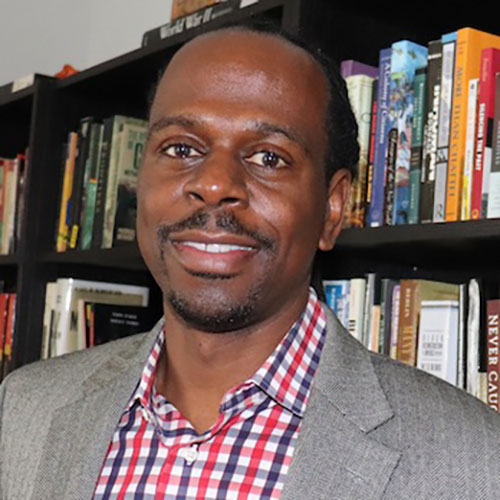 Phenderson Djéli Clark is the award winning and Hugo, Nebula, Sturgeon, and World Fantasy nominated author of the novel A Master of Djinn, and the novellas Ring Shout, The Black God's Drums and The Haunting of Tram Car 015. His stories have appeared in online venues such as Tor.com, Daily Science Fiction, Heroic Fantasy Quarterly, Apex, Lightspeed, Fireside Fiction, Beneath Ceaseless Skies, and in print anthologies including, Griots, Hidden Youth and Clockwork Cairo. He is a founding member of FIYAH Literary Magazine and an infrequent reviewer at Strange Horizons.
Born in New York and raised mostly in Houston, Texas, he spent the early formative years of his life in the homeland of his parents, Trinidad and Tobago. When not writing speculative fiction, P. Djèlí Clark works as an academic historian whose research spans comparative slavery and emancipation in the Atlantic World. He melds this interest in history and the social world with speculative fiction, and has written articles on issues ranging from racism and H.P. Lovecraft to critiques of George Schuyler's Black Empire, and has been a panelist and lecturer at conventions, workshops and other genre events.
At current time, he resides in a small Edwardian castle in New England with his wife, daughters, and pet dragon (who suspiciously resembles a Boston Terrier). When so inclined he rambles on issues of speculative fiction, politics, and diversity at his aptly named blog The Disgruntled Haradrim.