I discovered Throwback Thursday on my friend Carla Loves To Read page.
Throwback Thursday meme is hosted by Renee@It's Book Talk and is a way to share some of your old favorites as well as sharing books that you're FINALLY getting around to reading that were published over a year ago. You know, the ones waiting patiently on your TBR list while you continue to pile more titles on top of them! These older books are usually much easier than new releases to get a hold of at libraries and elsewhere. If you have your own Throwback Thursday recommendation feel free to jump on board and connect back to Renee's blog.
---
This week's selection was taken from my "Best Book of the Year" shelf where I try earnestly to pick my ultimate favorite book out of 100 or so books I've read that year. A daunting task for sure but it gives me a bit more time to spend with the books that touched my heart. Hanya Yanigihara's A Little Life was one of two books in 2015 that made it on to my list. To read this book is to viscerally, with your whole body and heart, experience another person's life, loves and tragedy. This is one of those books where I ugly cried. But it is also one of the most tender and moving and strangely hopeful books I've ever read. You can find the following review and more on my GoodReads page.
It took me quite a while to get through this book. Not because of the 700+ pages but because of the intense themes (addiction, self-mutilation, abuse in its many forms) that run throughout the book. Please don't get me wrong I loved this book. It was so beautifully written, the characters were so thoughtfully developed. Yanagihara held nothing back as she praised their gifts; exposed their weaknesses and flaws. I felt as if I personally knew JB, Jude, Willem and Malcolm. Despite how seemingly different my life was from theirs, I still found myself identifying with each of them, crying real tears as they faced their trials and endured the unthinkable. Despite the dark undercurrents of this book, I found it to also be a love story between friends, the definition of family and the sacrifice of lovers.
Throwback Pic
In this photo of Jimi Hendrix taken in 1968 for the album cover of Electric Ladyland, photographer David Montgomery set an actual fire on the set. Yet look at Jimi's serenity. Despite the chaos behind him he seems at peace. Altogether it makes for an awesome shot don't you think?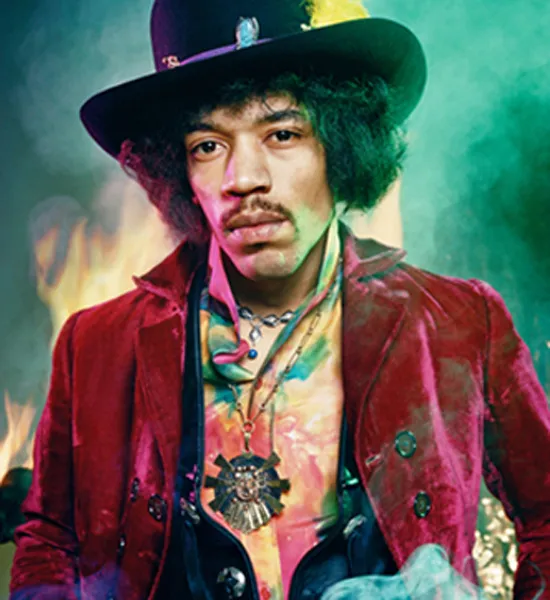 Signing off. Hope we get to talk books soon!