Hey Everyone! Hope you had a wonderful week of reading! Personally, I got side-tracked by my allergies. But I am trying to get back on track. I am hoping that with the children returning back to school this week that I will be able to steal more time to read.
For those of you new to WWW Wednesdays: This meme was created by Miz B formerly of shouldbereading and currently hosted by Sam at Taking on a World of Words. Just answer the three questions below and leave a link to your post in the comments for others to look at. No blog? No problem! Just leave a comment with your responses. Please, take some time to visit the other participants and see what others are reading. So, let's get to it!
The Three Ws are:
What are you currently reading?
What did you recently finish reading?
What do you think you'll read next?
What I've Read
Black Buck by Mateo Askaripour
Their Frozen Graves by Ruhi Choudhary
Black Beach by Glynis Guevara
Dog Flowers by Danielle Geller
Loving Donovan by Bernice L. McFadden
This year I have committed myself to reading the works of three authors: James Baldwin, Bernardine Evaristo and Bernice L. McFadden. Loving Donovan is the first novel that I have read for this challenge this year. It is the third book that I have read from Ms. McFadden and one commonality that I have found in her books is that they get to the heart of human emotion. Her characters and their backstories have so much depth and are complex. You can't help but identify with their pain and their joy. Even if you don't see yourself in her pages you feel as if you know someone just like that. Her writing is just brilliant.
---
The Incredible Nellie Bly by Luciano Cimino
---
What I'm Reading
Daughters of Africa edited by Margaret Busby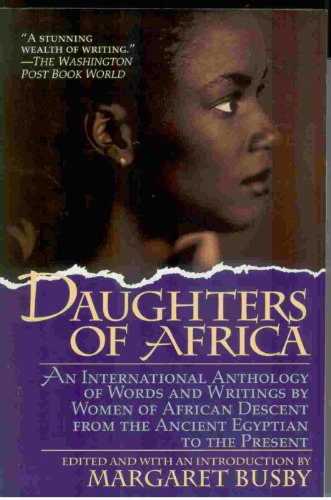 This anthology includes biographies and writings from women all across the African diaspora. It is arranged chronologically starting with Traditional African poems. This is part of a yearlong project for me. So far I have 1500 BC – 1820's. (So about 90 pages. Ha! Ha!) I enjoy learning about these incredible women in history. Oftentimes I find myself stepping away from the book to research them further.
---
The Dangers of Smoking in Bed by Mariana Enriquez
This is a short story collection by Argentine author Mariana Enriquez. All of these stories have a bit of the macabre. I am not sure whether I would classify them as magical realism or horror. But will say is that I have been absolutely captivated by this collection. Each story touches upon some human element that is typically ignored. Her writing is utterly original and I find that I cannot help myself but to read the stories over back-to- back so that I can glean more from them. I actually started journaling about each story. Who knows by the time I finish my notes may be longer than the book. LOL
---
The Woman Inside by Anna-Lou Weatherley
The Woman Inside is an intense emotional thriller about a woman left for dead. When questioned she cannot remember anything from the day of the attack. DI Dan Riley needs her to gain her memory back in order to catch the serial killer. I'm super excited to read this one. My Blog Tour review will be live tomorrow morning. So check back here for all the juicy details!
---
What's Next?
Your Corner Dark by Desmond Hall
Contemporary/ Young Adult
Hardcover, 384 pages
Expected publication: January 19th 2021 by Atheneum/Caitlyn Dlouhy Books
NetGalley
---
The Secret Lives of Church Ladies by Deesha Philyaw
Literature/Short Stories
Paperback, 192 pages
Published September 1st 2020 by West Virginia University Press
52 Weeks of Women of Color
2021 Motley Reading Challenge