Have you ever read a book that made you ugly cry? Although I gravitate towards fast paced thrillers I'm learning that an occasional cry can be quite cathartic. Here's a scene from one of my all time favorite movies, The Color Purple. This is the scene where Celie discovers that Mister has been hiding her sister's letters. I cried out of anger for his cruelty and joy for their reunion.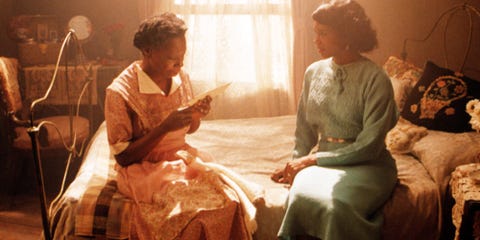 5 On My TBR is a weekly meme that gets you digging into your massive TBRs to find five special books. Created by E@LocalBeeHuntersNook this meme centers on a new prompt each Monday. As you can probably guess this week's theme is tearjerkers. For those of you interested in participating in #5 On My TBR you can find additional info and future prompts here.
Here are the books on my TBR that are most likely to make my eyes leak. So get out your tissues and find a strong shoulder to lean on.
It is 1910 and Philadelphia is burning.
The last place Spring wants to be is in the rundown, coloured section of a hospital surrounded by the groans of sick people and the ghost of her dead sister. But as her son Edward lays dying, she has no other choice.
There're whispers that Edward drove a streetcar into a shop window. Some people think it was an accident, others claim that it was his fault, the police are certain that he was part of a darker agenda. Is he guilty? Can they find the truth?
All Spring knows is that time is running out. She has to tell him the story of how he came to be. With the help of her dead sister, newspaper clippings and reconstructed memories, she must find a way to get through to him. To shatter the silences that governed her life, she will do everything she can to lead him home.
---
Eight-year-old Edgar Fini remembers nothing of the accident people still whisper about. He only knows that his father is gone, his mother has a limp, and his grandmother believes in ghosts. When Edgar meets a man with his own tragic story, the boy begins a journey into a secret wilderness where nothing is clear—not even the line between the living and the dead. In order to save her son, Lucy has no choice but to confront the demons of her past.

Profound, shocking, and beautiful, Edgar and Lucy is a thrilling adventure and the unlikeliest of love stories. 
---
In 1985, Yale Tishman, the development director for an art gallery in Chicago, is about to pull off an amazing coup, bringing in an extraordinary collection of 1920s paintings as a gift to the gallery. Yet as his career begins to flourish, the carnage of the AIDS epidemic grows around him. One by one, his friends are dying and after his friend Nico's funeral, the virus circles closer and closer to Yale himself. Soon the only person he has left is Fiona, Nico's little sister.
Thirty years later, Fiona is in Paris tracking down her estranged daughter who disappeared into a cult. While staying with an old friend, a famous photographer who documented the Chicago crisis, she finds herself finally grappling with the devastating ways AIDS affected her life and her relationship with her daughter. The two intertwining stories take us through the heartbreak of the eighties and the chaos of the modern world, as both Yale and Fiona struggle to find goodness in the midst of disaster.
---
In a small town in western Nigeria, four young brothers take advantage of their strict father's absence from home to go fishing at a forbidden local river. They encounter a dangerous local madman who predicts that the oldest boy will be killed by one of his brothers. This prophecy unleashes a tragic chain of events of almost mythic proportions.
---
Alisak, Prany, and Noi—three orphans united by devastating loss—must do what is necessary to survive the perilous landscape of 1960s Laos. When they take shelter in a bombed out field hospital, they meet Vang, a doctor dedicated to helping the wounded at all costs. Soon the teens are serving as motorcycle couriers, delicately navigating their bikes across the fields filled with unexploded bombs, beneath the indiscriminate barrage from the sky.
In a world where the landscape and the roads have turned into an ocean of bombs, we follow their grueling days of rescuing civilians and searching for medical supplies, until Vang secures their evacuation on the last helicopters leaving the country. It's a move with irrevocable consequences—and sets them on disparate and treacherous paths across the world.