Genre: Young Adult
Publication Date: March 2rd, 2021
Publisher: Penguin Random House
Buy Links
Special thanks to Siham at Qamar Blog Tours for arranging this tour.
Synopsis
Nima doesn't feel understood. By her mother, who grew up far away in a different land. By her suburban town, which makes her feel too much like an outsider to fit in and not enough like an outsider to feel like that she belongs somewhere else. At least she has her childhood friend Haitham, with whom she can let her guard down and be herself. Until she doesn't.
As the ground is pulled out from under her, Nima must grapple with the phantom of a life not chosen, the name her parents didn't give her at birth: Yasmeen. But that other name, that other girl, might just be more real than Nima knows. And more hungry. And the life Nima has, the one she keeps wishing were someone else's . . . she might have to fight for it with a fierceness she never knew she had.
---
My Thoughts
What does it mean to be home?
Is home your country? Your neighborhood? Your house?
For Nima, a young girl born in America to immigrant parents neither country feels like home. She has a feel for the old country through the stories and songs and pictures that she lovingly hoards as the "Nostalgia Monster" but she is not the traditional girl. She doesn't dress herself up all fancy to appease the aunties. Despite the fact that it hurts sometimes when she overhears them gossiping about how she doesn't fit the mold. Though immersed in American culture at school, she still stands out and must face discrimination. This is why for Nima home is not some randomly constructed border called country, but the community that she lives in. It's the people around her. The people who love her and care for her like Haitham.
Elhillo explores borders further through the character Yasmeen. Fans of the poet were first introduced to Yasmeen in a poem about identity: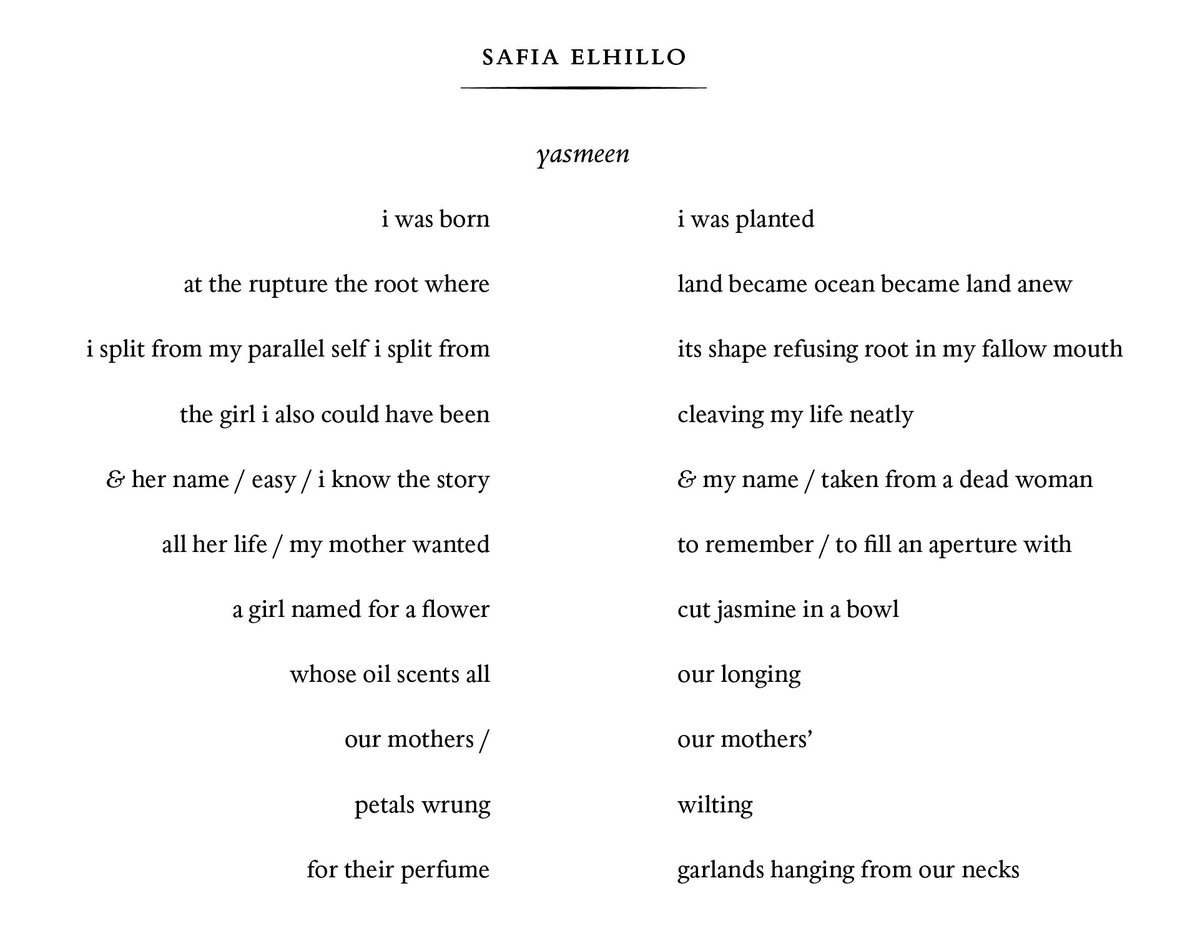 Yasmeen's character allows us to venture into the possibilities of life. A lot of times, especially as a teenager, you are trying to figure out who you are and what your place is in this world. Time is spent imagining a different reality. What if I were skinny, rich, . . . whatever, what would my life be like then? What if? Even as adults we wonder how our world would be different if certain events had not happened to us. Yasmeen allows Nima to see what those possibilities could be. Nima learns that she is not beholden to borders whether they be political lines or societal stereotypes. Most importantly, — those little boxes that we draw ourselves into, those self-imposed barriers — can be breeched and hurdled.
Home is Not a Country is a beautiful book both inside and out. I don't feel as if there are any words that I can say that could capture the wonder and the richness of this work. I first "met" Safia Elhillo in BreakBeat Poets, Vol.2: Black Girl Magic. So when I heard that this book was coming out I immediately requested the audiobook through my library. This gave me the opportunity to read the book in print while listening to Elhillo tell Nima's story. Besides her cadence, I really appreciated listening to her speak and sing Arabic. This was truly a multi-dimensional experience for me that was heightened by the music in Elhillo's Spotify playlist.
---
Safia Elhillo
Safia Elhillo is the author of The January Children (University of Nebraska Press, 2017), which received the the Sillerman First Book Prize for African Poets and an Arab American Book Award, Girls That Never Die (One World/Random House, forthcoming), and the novel in verse Home Is Not A Country (Make Me A World/Random House, 2021).
Sudanese by way of Washington, DC, she holds an MFA from The New School, a Cave Canem Fellowship, and a 2018 Ruth Lilly and Dorothy Sargent Rosenberg Fellowship from the Poetry Foundation. Safia is a Pushcart Prize nominee (receiving a special mention for the 2016 Pushcart Prize), co-winner of the 2015 Brunel International African Poetry Prize, and listed in Forbes Africa's 2018 "30 Under 30."
Safia's work appears in POETRY Magazine, Callaloo, and The Academy of American Poets' Poem-a-day series, among others, and in anthologies including The BreakBeat Poets: New American Poetry in the Age of Hip-Hop and The Penguin Book of Migration Literature. Her work has been translated into several languages, and commissioned by Under Armour, Cuyana, and the Bavarian State Ballet. With Fatimah Asghar, she is co-editor of the anthology Halal If You Hear Me (Haymarket Books, 2019). She is currently a Wallace Stegner Fellow at Stanford University and lives in Oakland.
---
Here's Where You Can Find Safia
Blog Tour Schedule
Show some love to these other creators on the Home is Not a Country tour:
Disclaimer: An ARC of the book was provided to me by Qamar Blog Tours and Penguin Random House as part of a promotional tour.